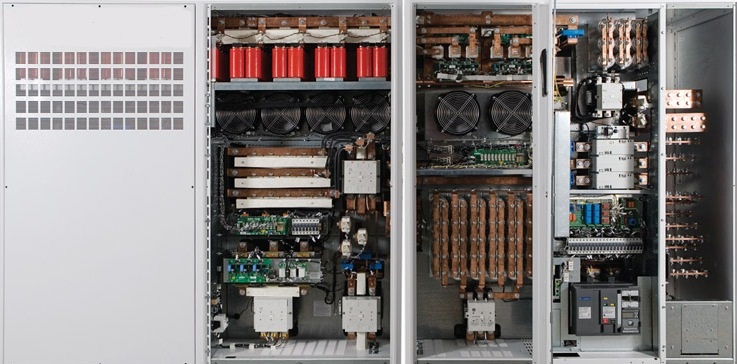 Moxy Power Systems
UPS (Uninterruptible Power Supply) Systems
UPS | Battery Banks | Inverters | Switches | Monitoring and Management
Moxy Power Systems provides complete design, sales, installation, monitoring and management, repair and maintenance services for your emergency UPS (uninterruptible power supply) system – single or three phase. We will work closely with you to help you find the most appropriate equipment for your business needs, keep acquisition and operating costs down, and minimize any disruption during installation and commissioning. Upon completion of the commissioning by our authorized, certified team, your UPS will be warranty protected.
After selecting the appropriate UPS, a proper installation is integral to the success of your UPS system. Let Moxy Power Systems install and commission your system, bringing it fully online. We will also perform the proper post-installation load bank test. Our qualified team can integrate any type of battery (flooded lead-acid, VRLA, NiCad, etc.); the right rectifier/charger/inverter; static switch; and battery monitoring and management system into your UPS system. We can help you choose if an off-line or on-line set up is right for you, and all of our installations meet or exceed IEEE and manufacturer standards. If you did not purchase your equipment through us, but still need a certified installer, we are happy to install, commission and test your equipment.
Batteries are the heartbeat of your UPS system. Since a battery bank is only as strong as its weakest cell, a weak battery can compromise the functionality of your entire system. Not only does Moxy Power Systems offer battery replacement or upgrade services and rectifier/charger/inverter, switch and ancillary equipment sales and integration services, we can also incorporate a battery monitoring and management system into your UPS system. A battery monitoring/management system generates reports on the condition of your battery bank – resistance, voltage, temperature, discharge, etc. They control individual charging voltages, which prevent under or over-charging, gassing and water loss, thereby, extending battery life. Should a battery become compromised, it can be replaced before the integrity of your UPS system is at risk, or worse, fails.
Moxy Power Systems also provides remote UPS monitoring services. A remote UPS monitoring and management system communicates constantly with your UPS and detects any error or alarm messages. If a message is detected, the system sends a secure, one-way email communication to Moxy Power Systems Critical Response Center (manned 24 / 7 / 365), providing important technical details of the event. We can remotely diagnose the issue, work with your field team while we are en route and arrive at your facility with the correct parts and equipment. A UPS monitoring and management system is ideal for mission-critical businesses and unmanned sites. By analyzing the report data the system sends to us each month, Moxy Power Systems can detect faults and anticipate failures.  This truly is service at the highest level.
It is important to understand that the purpose of a UPS system is to provide clean, uninterrupted power to your business' sensitive equipment. With a battery bank, your UPS will provide smooth power for a short-lived power disturbance event or enough time for the system to properly and gently shut itself down; it does not provide continuous back-up power. If your business must remain online 24/7 with continuous power and any downtime is intolerable, a generator will need to be part of your UPS system plan.
Moxy Power Systems excels in the sales, installation, service and monitoring/management of generators and UPS systems, offers standby and UPS preventive maintenance services and provides HVAC and refrigeration services specifically geared towards our commercial/industrial clientele.